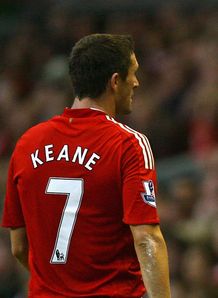 Liverpool striker Robbie Keane has been dropped to the bench for his side's Premier League encounter with Hull City this afternoon. The Republic of Ireland international has been strongly linked with a move away from Anfield in recent weeks as he continues to be overlooked for a starting role in Rafa Benitez' side.

Keane started Liverpool's midweek Champions League tie with PSV, however Benitez has decided to replace him with Dirk Kuyt for this afternoon's game. Since arriving on Merseyside, Keane has only managed to score 4 goals in all competitions and a move back to Tottenham has been touted.

Personally I am very surprised to see Keane on the bench this afternoon. With Benitez insisting all week that Keane does have a future at the club, it is strange to see him leave him on the bench in a game, where I feel he could of scored a couple of goals and got a bit of confidence back in him. Make sure to stay tuned to Football Corner for a report on all the Premier League 3pm kick-off's once the final whistle blows.
0 comments: