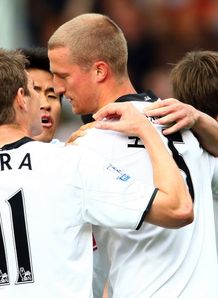 Arsenal are ready to replace William Gallas with Fulham defender Brede Hangeland once the January transfer window opens. Gallas looks set to leave the Emirates after a turbulent last month at the North London club which has seen him lose his captaincy after a public outburst at the rest of the Arsenal squad.

Italian giants Juventus and AC Milan have both been linked with the French defender, however as yet neither side have made their interest known. With Gallas likely to depart, it leaves Arsene Wenger short a centre-back and Fulham defender Brede Hangeland could be the man to step in.

The big Norwegian international has been strongly linked with a move away from Craven Cottage in recent weeks with the likes of Liverpool and Tottenham also interested. His performances in recent weeks have been outstanding, most notably against Liverpool and Aston Villa were Hangeland helped his side keep clean sheets in both games.

Fulham boss Roy Hodgson has admitted it may be tough to hold onto the 27-year old in January should the likes of Arsenal come knocking. "If a serious offer comes our way for Brede I'm pretty sure it'll have to be considered ... When the day comes we'll have to take into account all the possibilities and probabilities and make a decision ... But at this stage we have absolutely no indication that Arsenal or any club of that stature are interested in Brede."

It is understood that Arsenal will need to bid somewhere around the £10 million mark to have any chance of landing the former FC Copenhagen man. Personally I think Hangeland would be a magnificent signing for Arsenal. He has proved this season that he can certainly perform at the highest level and I feel most Gunners fans would be happy to see him arrive in January.

Arsenal will need to pay more than £3 million to sign Hangeland, but you won't. Yes the 6ft 5in defender costs just that in this season's "You the Manager" and in my view is well worth a look. So follow the link below to enter your team to be in with a chance of winning some terrific weekly and monthly prizes.
0 comments: