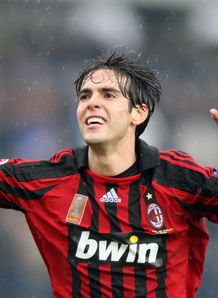 AC Milan star Kaka continues to be linked with a move to the world's richest club, Manchester City. The Brazilian international has been talking about one day moving to the Premier League and with Man City boss Mark Hughes ready to splash the cash come January, Kaka is now seen as a possible acquisition.

The 26-year old is widely regarded as one of the greatest players in the world and has won several awards during his career. Since joining Milan back in 2003 from Brazilian side Santos, Kaka has made over 240 appearances for the Italian giants, scoring 80 times in the process.

Kaka has had this to say on the matter : "I like the Premier League. It's a great championship with big players and big teams ... I know it is the best league in the world. So one day, maybe - I don't know when but it would be great to play in the Premier League."

The current FIFA World Player of the Year went on to talk about his relationship with international team-mate Robinho : "I have a lot of friends who are playing there so I am watching some games ... I speak with Robinho sometimes about Manchester City."

Although I would love to see Kaka come to the Premier League in January, I just can't see it happening. I have always been a massive fan of Kaka's and I feel the sooner he comes to England the better, however I think it will be at least another year or two before we see him in the country. As a City fan myself, I must admit I am over the moon to see us linked with player's of the quality of Kaka but I don't know whether or not we will manage to get them. Stay tuned to Football Corner for all the latest news and gossip.
0 comments: