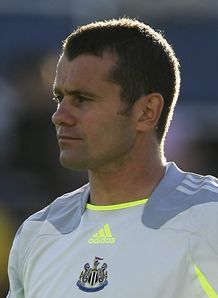 Tottenham have today been warned off making moves for Newcastle United keeper Shay Given and Everton striker Yakubu. Both players have been linked with a move to White Hart Lane in recent weeks as Harry Redknapp prepares to strengthen his squad during the January transfer window, however today they have been told to look elsewhere.

Newcastle keeper Shay Given was first linked with the North London club about two weeks ago when Redknapp admitted he would be interested in the player if he became available. Magpies interim-manager Joe Kinnear has today told Spurs to forget about making a bid for the player because it would just be rejected.

Meanwhile, Everton boss David Moyes has warned Spurs off making an approach for Yakubu. The Nigerian international was understood to be one of Redknapp's number one target's for the January transfer window as he looks to add to his attacking options. The pair previously worked together at Fratton Park with Portsmouth but it now appears unlikely that they will be re-igniting their partnership in North London.

This is obviously a bit of a set back for Spurs, however there are plenty more players out their who the club can sign. I feel it is vital Spurs sign a new goalkeeper in January because with Heurelho Gomes in goals they look like conceding every time the opposition have a shot on target. It is a shame that Given won't be joining because I think he would of been a magnificent replacement for Gomes.
0 comments: