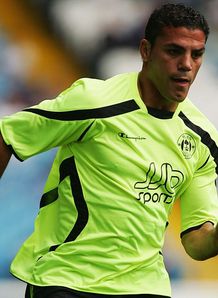 Real Madrid have today joined Liverpool and Manchester City in the race to sign Egyptian striker Amr Zaki. The player is currently on loan at Wigan Athletic, however it has been speculated in recent weeks that El Zamalek, the club who currently own Zaki, will look to cash in on the player once the January transfer window opens.

Wigan boss Steve Bruce is adamant that Zaki will join the Latics on a permanent deal come the end of the season, however with interest from such clubs as Real Madrid and Liverpool it has been rumoured that Zaki will opt not to join Wigan. Real are keen to add to their attacking options following the news that Ruud Van Nistelrooy will be out for the rest of the season through injury and Zaki is now seen as a possible acquisition.

It will be very interesting to see how this one pans out. Zaki, 25, has been tremendous since joining Wigan but for some reason I just don't see him signing for the club on a permanent basis. Personally I would like to see him remain in the Premier League and a move to money-bags City may be best for the player because he would be pretty much guaranteed first-team football at Eastlands whereas at either Real or Liverpool that may not be the case.

Zaki currently has eight goals to his name this season and in my view is a bargain at £3 million in this season's "You the Manager". So follow the link below to enter your team to be in with a chance of winning some terrific monthly and weekly prizes.
0 comments: