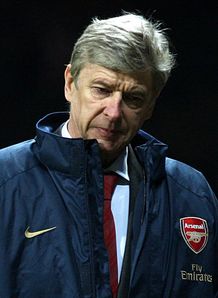 Arsenal's chances of winning the Premier League have today been dealt a massive blow. Arsene Wenger's men were beaten 2-0 by Aston Villa at the Emirates this afternoon, a defeat which leaves them nine points behind leaders Liverpool at the top of the Premier League table.

Martin O'Neill's men made their intentions clear from the off, with Ashley Young forcing Manuel Almunia into action with less than a minute on the clock. Villa defender Curtis Davies kept the sides level when he made a outstanding clearance off the line from a Cesc Fabregas shot.

The away side were awarded a penalty just five minutes later when Theo Walcott was penalised for bringing down Young in the Arsenal penalty area. Young took the penalty himself, however he saw his effort saved by Almunia which saw the sides go in level at the break.

Villa took the lead with 20 minutes left on the clock. Ashley Young whipped in a beautiful ball from the right and saw Gunners defender Gael Clichy put it into his own net. Arsenal were nearly level moments later when Emmanuel Adebayor headed onto the post but Villa then managed to clear.

The visitors wrapped up all three points with just 10 minutes remaining. Gabriel Agbonlahor slotting home from the edge of the area to send the away fans home very happy indeed. Although we are only thirteen games into the season, I firmly believe Arsenal's chances of winning the title have ended today. Credit has to go to Villa who went to win the game, not just sit back and try and snatch a point.

Elsewhere in the Premier League it finished : Bolton 0-2 Liverpool, Fulham 2-1 Tottenham, Blackburn 1-2 Sunderland, Newcastle 2-2 Wigan, West Ham 0-0 Portsmouth, Man United 5-0 Stoke City.
0 comments: