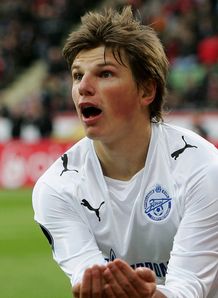 Tottenham are to renew their interest in Zenit St Petersburg playmaker Andrei Arshavin after the player admitted he wants to leave the Russian giants come the new year. Arshavin was linked with a move to White Hart Lane all summer long but due to Zenit's demand of £24 million for the player the move never happened.

The 27-year old Russian international has always maintained that he would like to join Spurs and a January move could become a reality with Harry Redknapp desperate to add to his attacking options. Following Zenit's 2-0 victory over Bate on Wednesday, Arshavin told Sports Express : "Four months ago I told the president of the club that I didn't want to remain at the club any more,"

"Everything depends on a single thing - whether Zenit will value me realistically. If that happens of course I will leave ... [If it doesn't] I will be a Zenit player on paper only. I neither desire nor intend to play here next year."

Personally I would love to see Arshavin move to North London. He is an exceptional talent who would no doubt make Spurs a better side and I feel he would prove to be a great signing. If Spurs were to make a £20 million bid once the January transfer window opens Zenit may just be tempted to accept because it is clear that he is unhappy at the club and that is never good for team morale.

0 comments: