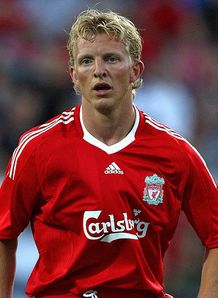 Liverpool striker Dirk Kuyt has today spoke of his desire to stay with the club. The Dutch international has previously been linked with a move away from Anfield, with German giants Hamburg apparently interested, however Kuyt is now hoping his good form this season will be rewarded with a new deal.

The 25-year old has scored six times this season and has played a major part in the side's terrific start to the Premier League campaign. Kuyt told the Daily Mirror : "I knew when I came here that Liverpool is a big club, but the feeling is getting stronger, the team is fitting together more and more, and this really is one of the biggest clubs in Europe and probably the world right now."

"I want to be part of that, and my intention is to stay here. So far there has been no talking about a new contract, but I really hope there will be because I want to stay here." I am personally a bit surprised that Liverpool haven't already offered the player a new deal. There is no doubt that he has been their best player this season and it would make sense to try and tie him down to a new deal as soon as possible.
0 comments: