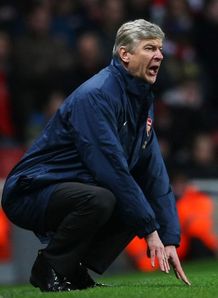 Arsenal manager Arsene Wenger has today accused Stoke City of purposely trying to injure his players. The Gunners suffered an embarrassing 2-1 defeat to Stoke on Saturday with Emmanuel Adebayor and Theo Walcott having to be substituted due to injuries. Adebayor picked up an ankle injury whilst Walcott was stretchered off with an injury to his shoulder.

Wenger, 50, now claims that Stoke were too aggressive and that Rory Delap and Ryan Shawcross weren't trying to play the ball when they tackled Arsenal players. Wenger was furious at today's Champions League press conference and said : "Do you think Delap tried to play the ball when he tackled Walcott? "Or that Shawcross tried to play the ball when he tackled Adebayor off the pitch?".

I am shocked to hear Wenger come out with these statements. For me it just sounds like sour grapes. His team were beaten by a newly promoted side and now Wenger is trying to look for excuses. It's not the first time Wenger has made such strong comments. Remember the whole Eduardo incident where Wenger claimed Martin Taylor should never be allowed play football again after the terrible tackle, however he later back-tracked on those comments. I feel he may do the same in this scenario as well.
0 comments: