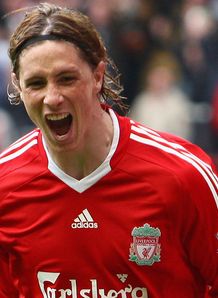 Liverpool striker Fernando Torres faces another three weeks out of action after injuring his hamstring in his side's 1-0 win over Marseille on Wednesday night. The Spanish international only recently returned from a hamstring injury and this will no doubt come as a massive blow to Reds boss Rafa Benitez.

Since moving to Anfield in 2007, the 24-year old has had no fewer than three hamstring injuries, much to the annoyance of the Liverpool faithful. "Fernando has a strain in his right hamstring and will be out of action for between two and three weeks." a club spokesman confirmed.

This is really starting to worry me. It is clear that Torres has a real problem with his hamstrings and I feel the club shouldn't try and rush him back because that could lead to even more problems. This will obviously mean that Robbie Keane will play a more prominent role in the weeks to come and with his current form, I think Liverpool may struggle to keep up their great start to the season.
0 comments: