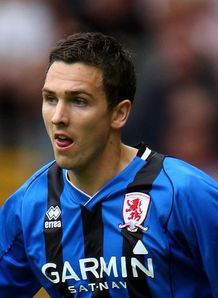 Middlesbrough midfielder Stewart Downing has today been linked with a move to Harry Redknapp's Tottenham. The England international has previously been linked with a move to White Hart Lane but for whatever reasons he remains a Boro player, although that may be about to change.

With Spurs boss Redknapp desperate to add to his midfield options once the transfer window opens on January 1st, Downing is now seen as a likely acquisition. It is understood that Boro manager Gareth Southgate will not let the 24-year old leave the Riverside for anything less than £11 million and Spurs are ready to meet their valuation.

For me, Downing has always been overrated and I feel Redknapp would be making a massive mistake spending such a large amount of money on him. Personally I think Spurs would be better off going for someone like Bayern Munich's Lukas Podolski. With January fast approaching, make sure you stay tuned to Football Corner for all the latest news and gossip.

Maybe you totally disagree with me and you think Downing is a quality player, then make sure you put him in your team. Downing costs £5.5 million in this season's "You the Manager" and may be worth a look. So follow the link below to enter your team to be in with a chance of winning some terrific weekly and monthly prizes.
0 comments: