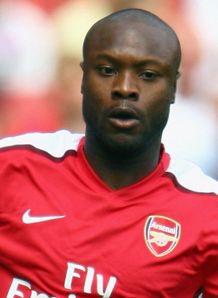 AC Milan are preparing £5 million bid for Arsenal defender William Gallas when the January transfer window opens. The Italian giants are keen to bolster their defensive options and are now looking to bring Gallas to the San Siro after his recent troubles at the Emirates.

The French international was recently stripped of the captaincy after he made comments about his fellow team mates. The North London club have since given Cesc Fabregas the armband and although Gallas returned for the side's 1-0 win over Dynamo Kiev in midweek, his future still remains unclear.

Arsene Wenger signed the 31-year old back in 2006 as part of the deal that took Ashley Cole to Chelsea. Since then Gallas has gone on to make over 60 appearances for Arsenal, scoring 8 times in the process. He has also been linked with a move back to France, where he began his career, however AC are determined to bring him to Italy.

As far as I see it, Gallas will not be a Arsenal player come February 1st. Even though Wenger and his agent have said he still has a future at the club, I personally feel the damage has been done and he will be gone once the window opens. If Arsenal do sell him, they will definitely have to go out into the market and find a new centre-back.
0 comments: