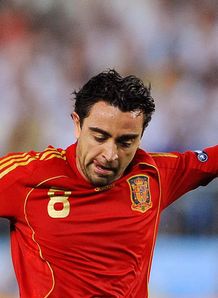 Barcelona midfielder Xavi has moved closer to leaving the Camp Nou after it was revealed that talks over a new contract have once again broke down, news that will put Manchester United and Arsenal on red alert. The Spanish international has been linked with a move to the Premier League for some time now as his contract talks continue to collapse.

The 28-year old is widely regarded as one of the best midfielders in the world and both Sir Alex Ferguson and Arsene Wenger are desperate to bring him to England. It is understood that there have been nearly a dozen meetings between the player's representatives and the Catalan club but as yet the player's future at the club remains unresolved.

Txiki Begiristain, the director of football at the La Liga giants said: "Xavi is a great player and has some large expectations. In the world of the football it is not easy to close this type of contract because of the length of the deal and the need to keep a salary equilibrium of the staff. If it was easy the deal would already would be done."

Wouldn't it be great to see a player of the quality of Xavi come to the Premier League. I have always been a huge admirer of Xavi's and I think he would be a tremendous success if he were to come to England. I am not surprised to see Xavi reject so many new contract offers because he deserves to be paid as much as some of the club's top earners are because he without doubt one of Barca's best players.
0 comments: