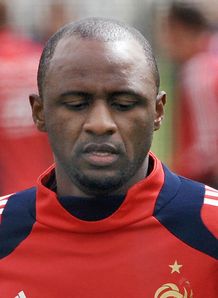 Portsmouth manager Tony Adams has today admitted he will try his best to bring Inter Milan midfielder Patrick Vieira to Fratton Park. The pair played together during their days at Arsenal and now Adams is ready to try and re-ignite their relationship once the January transfer window opens.

Vieira, 32, has fallen out of favour at the San Siro under former Chelsea manager Jose Mourinho. He has previously been linked with a move to Roy Keane's Sunderland however as yet nothing has materialised. "He is definitely a player I'd like to bring here if he was available," Adams told the Sunday Mirror.
"I will be speaking to Inter manager Jose Mourinho and asking about him .... With Patrick you know what you are getting - he is a proven winner and a great character." I personally feel Vieira would be a tremendous signing for Pompey. The former French international was and still is a terrific holding midfield player who would be a great acquisition for Adams.

0 comments: