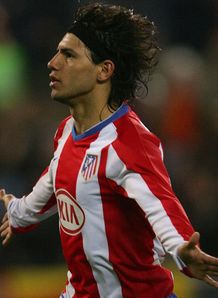 Manchester City are closing on the signing of Atletico Madrid striker Sergio Aguero. The Argentine international has been linked with a move to the Premier League for months now as the player's reputation continues to grow as one of the best strikers in the world.

Aguero, 20, has been at Atletico for over two years now since signing from Argentine side Independiente. He has since gone on to make over 100 appearances for the La Liga giants scoring an impressive 42 goals during that time. An Atletico insider revealed today in the News of the World : "City have already offered more than the £32 million they paid for Robinho.

"Madrid turned down £24 million from Inter Milan in the summer but the cash offer has gone higher and higher from City .... And just as they couldn't hold on to Fernando Torres, Atletico know they can't resist this sort of pressure."

I would love to see a player of the quality of Aguero come to the Premier League. There is no doubt he is one of the most promising talents in world football at the moment and it would fascinating to see how he would adapt to the pace of English football. Could you imagine, Robinho and Aguero up front for Man City, now that would be a partnership for defences to fear.
0 comments: