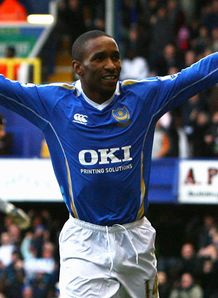 New Tottenham manager Harry Redknapp is believed to be preparing a raid on his former club Portsmouth. Redknapp made a shock exit from the South Coast club last week to move to White Hart Lane and he is already understood to be preparing moves for some of his former employees.

Jermain Defoe is believed to be high-up on Redknapp's January wish-list with the Spurs manager claiming "You never know do you? ... If he came back up for sale then I'm sure we would be interested." It has been claimed that a possible cash plus player bid could be made by Spurs with Aaron Lennon being used as bait for Defoe.

After seeing Defoe leave Spurs just eight months ago to join Pompey it would be a massive shock to see him return. He has proved a massive hit at Fratton Park in his brief spell at the club, scoring 13 goals in 19 League games, however the 26-year old England international may be tempted by first-team football at Spurs under his former boss.

Harry definetly wants him in his squad but do you? Well you can sign Defoe for just £6.5 million in this season's "You the Manager". You never know, he may be the man to win you some terrific monthly and weekly prizes so sign-up now (below) and start picking your eleven.
0 comments: