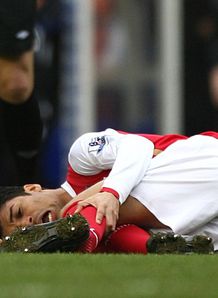 Arsenal striker Eduardo is on the brink of a return the football after eight months out with a serious leg injury. The Croatian international broke his leg back in February after Birmingham City defender Martin Taylor made a awful tackle on him but the good news is that he could return in a matter of weeks.

Gunners boss Arsene Wenger said at the time that Taylor should never be allowed to play football again for the tackle, a statement which he later back-tracked on. The 25-year old signed for the Gunners back in 2007 from Dynamo Zagreb and he made an immediate impression. He scored 12 goals in 31 appearances for Arsenal and became a real crowd favourite at the Emirates before the injury.

Great news for everyone at Arsenal and indeed football. Eduardo is a terrific player and it would be great to see him return to top form as soon as possible because he definitely deserves it. It was a real shame for Eduardo that the injury happened when it did because he missed the Premier League run-in and also missed Croatia's Euro 2008 campaign.
0 comments: