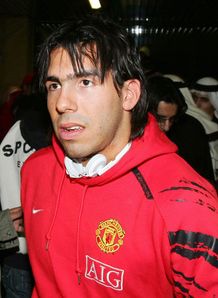 Real Madrid are monitoring Carlos Tevez' situation at Old Trafford following reports that Manchester United are unwilling to pay the £32 million needed to make the deal permanent. The Argentine international has spent the last season and a half at United and has impressed, however Sir Alex Ferguson is not prepared to fork out the money demanded by Tevez' owner Kia Joorabchian.

Real Madrid manager Bernd Schuster is desperate to add to his attacking options once the transfer window opens in January following the departure of Robinho to Manchester City last month. Tevez , 24, has made a total of 58 appearances for the Premier League giants during his time at the club scoring 20 times.

He won both the Premier League and the Champions League during his first season at the club and he is understood to be keen to make the move permanent as soon as possible. United originally paid Joorabchian £9 million to bring Tevez to the club on a two-year loan deal but that will expire at the end of the season with Ferguson desperate to make the move permanent.

Although I feel Tevez has been magnificent for United during his time at the club I don't think he is worth a total of £41 million. He is a player that works his socks off in every single game and is constantly pressuring defenders but for I don't see Ferguson splashing out all that money on one player and I feel a move to either Real Madrid or even Manchester City could be on the cards.
0 comments: