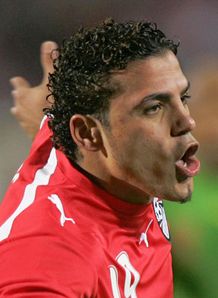 Liverpool have today entered the race to sign Amr Zaki, who is currently on loan at Wigan Athletic. The Egyptian striker has made an immediate impact in the Premier League, scoring an impressive seven goals in just eight games including a double against Liverpool at the weekend and now Rafa Benitez is ready to offer him the chance to move to Anfield.

Zaki, 25, is on-loan at the JJB Stadium until the end of this season from El Zamalek but he is expected to move to England on a permanent deal but to who is unclear. Steve Bruce has claimed that Wigan already have first refusal on the player which seems to lessen Liverpool's chances of signing the powerful striker.

Benitez told The Times : "Everybody will be checking his situation now," Manchester City are also understood to be interested in signing Zaki, with reports claiming that the world's richest club are to meet with his advisers during the week. Zaki has 48 caps for his country, with an impressive tally of 29 goals for the African nation.

This really has the potential to turn into a very interesting transfer saga. There is no doubt Zaki has turned out to be an unbelievable hit in the Premier League but how long will that last. Well by the look of things, very long. He is a player that gives 100% every time he goes out on the football pitch and he is a player that fans love watching.

Now here is a real bargain. Zaki costs just £3 million in this season's "You the Manager". You never know, the big Egyptian could be the man to win you some terrific monthly and weekly prizes, so sign-up now (below) and enter your Premier League eleven.

0 comments: