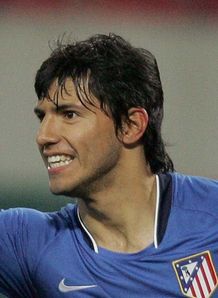 Liverpool manager Rafa Benitez has today admitted he turned down the chance to sign Atletico Madrid striker Sergio Aguero. The Spaniard admits he was offered the chance to sign Aguero back in 2006, however Benitez thought he was too young and was unwilling to pay what Atletico wanted at the time.

Aguero, 20, is now regarded as one of the best strikers in the world and has even been linked with a possible January move to Anfield. Benitez told The Times "Two years ago the agents were talking with us about players and he was one of those but he was too young ... Atletico paid big money for him, around £14 million for a player who was a risk ... In the Premier League it's different and sometimes players will need more time here to improve."

The Argentine international will be looking to show Liverpool what they missed out on when the two sides meet in the Champions League on Wednesday at the Vicente Calderon. Personally I feel Aguero is an unbelievable talent and I am sure Benitez regrets his decision not to sign him when he had the opportunity but you never know he may yet join Liverpool in the future.
0 comments: