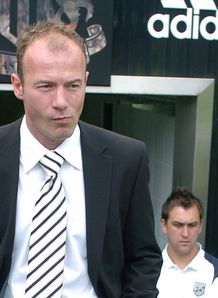 According to a recent poll run on Football Corner, you the readers, think that Alan Shearer will be the man to replace Kevin Keegan as Newcastle United's new manager. The reasons for Keegan's resignation last week has led to uproar at St James' Park, with protests planned for the weekend, but could Shearer really be heading back to the club he is considered a legend at?

Here are the results of the poll:

Alan Shearer - 53 votes (26%)
Other - 33 votes (16%)
Dennis Wise - 31 votes (15%)
Gus Poyet - 27 votes (13%)
Roberto Mancini - 27 votes (13%)
David Moyes - 13 votes (6%)

Total Votes : 201.

I would like to take this opportunity to thank everyone who voted in the poll and I would encourage everyone to vote in our latest poll : Will the big four change at all this season?
0 comments: