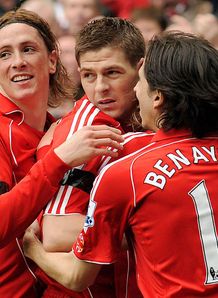 Liverpool manager Rafa Benitez has today been handed a massive boost ahead of the Premier League clash with Manchester United tomorrow. Both Steven Gerrard and Fernando Torres have been declared fit to play after injury concerns.

Gerrard missed England's two World Cup qualifiers against Andorra and Croatia with a groin injury sustained whilst playing for Liverpool and was serious doubt for tomorrow's match. Meanwhile, Torres had a hamstring strain and was also considered a serious doubt for the big game at Anfield tomorrow but Reds boss Benitez has confirmed the pair are fit and ready for action.

"They are both much better," Benitez told the club's official website. "They came through a full training session this morning. It wasn't a very hard session, but they will both be in the squad. "It's important for us to have these two players of quality who can change a game. "I'm not surprised they are available because the medical staff have done a good job and the players have been working really hard with the physios to get fit."

Obviously this is a massive boost for Liverpool's chances of beating Sir Alex Ferguson's United. It is a hard task as it is but if Torres and Gerrard had of been ruled out it would of been even tougher. Anyway, with Gerrard and Torres I feel Liverpool are super bet for the game tomorrow @ 2/1 (below).
0 comments: