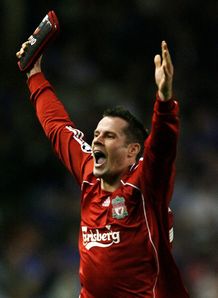 It would appear all is not well at Liverpool. Defender Jamie Carragher has revealed in his new book , Carra : My Autobiography, how he truly feels about the club's American owners Tom Hicks and George Gillett and as you will see in a moment, it's not very complimentary.

The former England international has many harsh words to say about Hicks and Gillett throughout the book. The 30-year old says: "For richer or poorer, we'd sold Liverpool to two ruthless businessmen who saw us as a money-making opportunity,"

"They didn't buy Liverpool as an act of charity; they weren't intent on throwing away all the millions they'd earned over 50 years... They wanted to buy us because the planned stadium offered a chance to generate tons of cash and increase the value of the club.

"Think how many world-class players that £200million could have brought to the club. Instead if Gillett and Hicks did sell, they or their banks would make a huge profit. "I felt ill thinking about it."

With the big game against Manchester United coming up at the weekend this really couldn't of come at a worse time. Carragher goes on to talk about how the owners have treated manager Rafa Benitez and many other things including his early life and how he became the great player that he is today.

Will Carragher be the man to win you £10,000. Sign-up for this year's "You the Manager" (below) and sign the player for just £6 million, but be quick because their is a deadline set for Saturday 12:00 for the September monthly prize. Join now and receive two teams for the price of one.
0 comments: