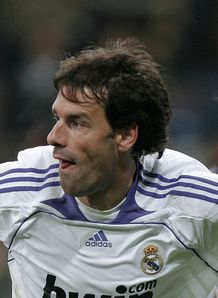 Manchester City are determined to sign Real Madrid striker Ruud Van Nistelrooy come January after missing out on the Dutch international on deadline day. The former Manchester United goal machine is high up on City's January wish-list which also includes Fernando Torres, Cristiano Ronaldo and Cesc Fabregas.

Van Nistelrooy, 32, was apparently subject of a blank cheque offer from City's new owners on transfer deadline day on Monday, an offer which Real Madrid immediately rejected. Van Nistelrooy made a total of 217 appearances for United during his time at the club, scoring an impressive 149 goals in that time.

There is no doubt Van Nistelrooy is a magnificent player, however I personally wouldn't like to see the Dutchman heading for Eastlands. He is 32-years old now and I feel it is best that the City owners concentrate their efforts on bringing younger front men into the club, come the opening of the January window.
0 comments: