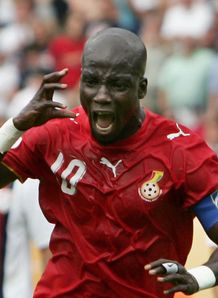 Arsenal are considering offering Steven Appiah a contract after the player admitted he would relish a move to the Premier League. The Ghana international is now a free agent after being released by Turkish side Fenerbahce and can still sign for any outside the transfer window.

Arsene Wenger is keen to add to his midfield options after missing out on Gareth Barry and Xabi Alonso during August and Appiah looks a suitable candidate. The 27-year old has also been linked with a move to West Ham United in recent days but as yet nothing has materialised and Appiah has welcomed the interest from the Gunners.

"There are contracts, there are talks – I can't say anything yet," said Appiah. "I am not going to put people off, my agents are talking so I have nothing else to say." I personally think Appiah is a tremendous midfield player who would benifit a lot of sides in England, including Arsenal. He wouldn't cost the club a penny (apart from his wages) and I feel he could prove to be an excellent signing.
0 comments: