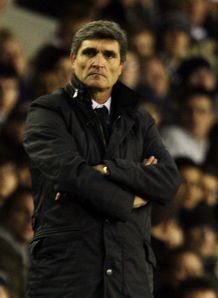 The mass exodus from White Hart Lane has continued today with Anthony Gardner joining Premier League newcomers Hull City. Pascal Chimbonda also completed his move to Sunderland, with Younnes Kaboul to follow him out the door at Spurs to join up with Roy Keane's men.

Teemu Tainio also left London earlier this week to join Sunderland. Steed Malbranque could follow suit within days as Sunderland look to tie up a deal worth £23 million for the quartet. The recent departure of many of Juande Ramos' squad has left Spurs fans wondering just who has the Spaniard got lined up?

Well it is now thought Ramos has finished clearing out the shite at the club (with Paul Robinson to join Blackburn later this week) and he will now look to start spending all the money received from Sunderland, Aston Villa and Hull City.

Names like Roque Santa Cruz, David Bentley, Andrei Arshavin and Vagner Love have all been mentioned, however I have heard of very few defenders linked with the club in recent weeks. Just think about it. They are letting go of Kaboul, Gardner and Chimbonda, all crap defenders, but that only leaves them with half a dozen defenders in Dawson, Bale, Gunther, King, Woodgate and Gilberto.

Now what I think and I am sure a lot of other Spurs fans think is that Ramos needs to go out and buy one or two top quality defenders to give himself some options in defence. I mean they were hardly a defence to be feared last year, so if they were to go out and buy someone like Micah Richards from Manchester City they would certainly look a lot stronger outfit.
0 comments: