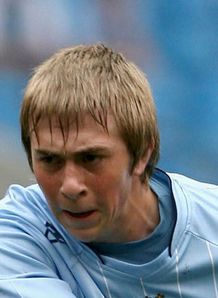 Arsenal are to make a £12 million bid for Manchester City midfielder Michael Johnson. The England under-21 international has been linked with moves to Tottenham and Everton all summer as word spreads that he is unhappy at the City of Manchester stadium. (Premiership Latest)

Johnson, 20, has made a huge impact at Man City in recent years after progressing through the club's renowned academy. He has made over 40 appearances for the Blues and has just one cap for the England under-21's.

With Arsenal's lack of numbers in midfield and Johnson's apparent unwillingness to stay at City this could be a deal waiting to happen. Johnson is unhappy at the way former City boss Sven Goran Eriksson was treated and reports are that he is now ready to leave the club in search of a bigger challenge.

Is Johnson good enough for your fantasy football team? If so register now for the Daily Mirror's, You The Manager, fantasy football game(through the link at the top) and buy the player for just £3.5 million! Now that's a bargain!
0 comments: