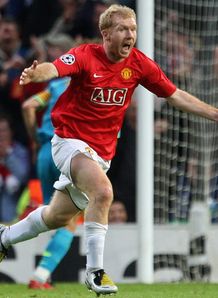 Manchester United midfielder Paul Scholes had today said he will retire from football in two years time. The United veteran has spent his whole career at Old Trafford and he has admitted today he will give up the game in just two seasons time.

The 33-year old has one year left on his current deal at United but he is hoping for that to be extended soon. "How long will I go on? I'd think two years at the most," said Scholes.

"I have one year left on my contract and hopefully I'll get another one but I suppose it all depends on how you're feeling and how you're playing. "At the moment I just think two years would be about right."

Scholes is considered by many as a model professional. You never see Scholes making the headlines in the papers for the wrong reason and he is a role model for thousands of youngsters. A career that has spanned 15 years, playing over 400 times for the Red Devils and 66 times for England, Scholes will always be remembered for his pin-point passing and his terrific long range shooting.

Is Scholes good enough for your fantasy football team. If so sign up for the Daily Mirror's, You The Manager (through the link at the top) and sign the ginger magician for just £4.5 million!
0 comments: