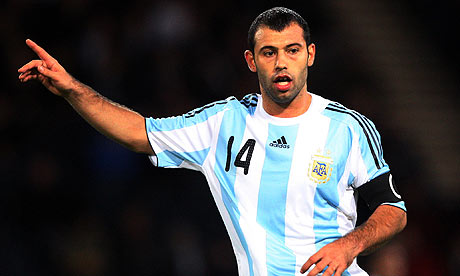 "Of course I would like him to join. Who would not want to play with great players like Javier? I hope he can come here."

That was the message from Barcelona's Lionel Messi today after he was asked about the possibility of Javier Mascherano moving to the Camp Nou. The Liverpool midfielder has been repeatedly linked with a move to the Spanish and European Champions in recent weeks after he admitted a move to Barca would interest him.

Mascherano, 25, has been at Anfield for over two years now since leaving fellow Premier League side West Ham in contreversal circumstances. Despite Liverpool boss Rafa Benitez insisting on numerous occassions that Mascherano is not for sale, reports of a possible £20 million persist.

The Argentina captain stated earlier this month that his pregnant wife could not settle on Merseyside and therefore he may be forced to quit the club which caught the attentions of several big European clubs including Barca. Pep Guardiola is desperate to keep up with bitter rivals Real Madrid in terms of spending this summer and Mascherano is now seen as a likely candidate to arrive at the Camp Nou in the coming weeks.

Personally, I would be extremely surprised if Mascherano was still wearing the red of Liverpool next season. It is obvious that he wants to leave and I think Barca would be the perfect destination for him. It will be interesting to see how long it takes before we see Barca make a serious bid for Mascherano. Stay tuned to Football Corner for all the latest.

What do you think? Comments below please.

1 comments:
Reading through the news, it seem that the writer want Mascherano to join Barcelona not Messi. But he forget Yaya Toure agent says yesterday that the player was promised by Barca that the position in the center of midfield belong to Yaya partnering Xabi. If not, Yaya will move to Manchester City for multi millions contract. So, where is Mascherano. Surely on Barca BENCH.