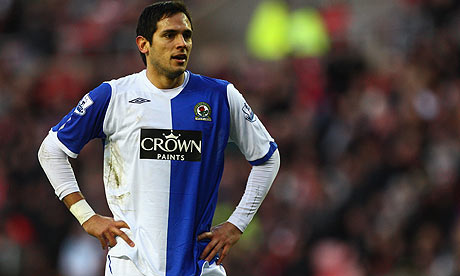 Roque Santa Cruz has today become Manchester City's second major signing of the summer after passing a medical.

The former Blackburn Rovers striker has moved to Eastlands for a fee believed to be £18 million. The Paraguayan international has been linked with a move to the world's richest club for over a year now but the two clubs only agreed a fee on Friday.

Santa Cruz, 27, has never hidden his desire to leave Ewood Park, stating on several occasions that he wanted to join a more ambitious club. Back in April, Santa Cruz had this to say : "I have already told them [Blackburn] and they know that before the transfer window closes I would like to continue my career at a bigger, more ambitious team."

Santa Cruz's arrival comes just weeks after Gareth Barry arrived at the club for £12 million and Mark Hughes' spending is set to continue over the coming months with Carlos Tevez and Joleon Lescott strongly tipped to arrive. If Santa Cruz stays fit, I think he can be a huge success at City, however I feel £18 million is a little bit too much to be paying for a player who barely played last season.

What do you think? Comments below please.
0 comments: