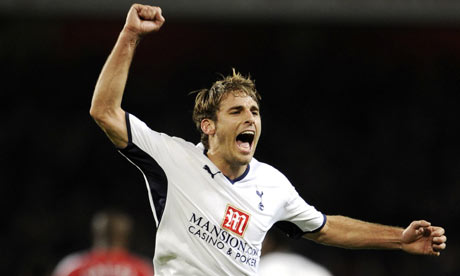 Back on July 31st 2008, many believed Tottenham had made one of the signings of the summer when David Bentley arrived at White Hart Lane.

Just 10 months later, it looks as though his days as a Spurs player are numbered after Harry Redknapp failed to confirm or deny whether or not Bentley would still be at the club next season.

The England international has failed to make any sort of impact at the North London giants since his £18 million move from Blackburn last summer. No doubt, the highlight of Bentley's career at the club was his 40-yard wonder strike against arch rivals Arsenal back in September, which was considered by many as one of the Premier League greatest goals.

Over the past few months, Bentley has been strongly linked with a move to Spain, however as of now nothing has materialised. Before the January transfer window opened earlier this year, it was rumoured that Bentley may link up with former Spurs boss Juande Ramos at Real Madrid but nothing ever happened there. So where will Bentley be next season? Comments below please.

We would really appreciate if you clicked here to vote for Football Corner as EPL Talk's Best Premier League Blog 2008/2009.
2 comments:
The main issue hear is the fee. Whoever is prepared to pay £8m-10m for him, we should snap their hands off.
Pavlychenko and Bent doing the "Frank Bough" could give us a combined £25m.
Zokora can go for around £5m.

That is approximately £40m for Hero Harry to invest and finally usurp the scum. Redknapp already knows the 3 players he wants. If they are as half as good as Palacios in their respective roles, the sky's the limit.

COYS!