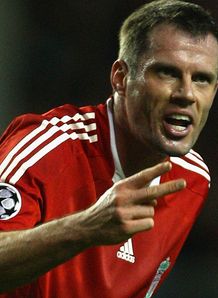 Because they wanted to keep a clean sheet.

Yes, sounds stupid doesn't it, but that's why the Liverpool defenders had to be restrained by fellow team-mates this afternoon as their side cruised to a 2-0 win away to West Brom.

Speaking after the game, Jamie Carragher revealed the only reason why himself and Alvaro Arbeloa were arguing was the fact they were desperate to keep a clean sheet and help Reds keeper Jose Pepe Reina catch Manchester United's Edwin Van Der Sar in the race for this season's Golden Glove award.

"We want to keep a clean sheet and we want Pepe to have a chance of the Golden Glove for the third season running ... Pepe is one behind Van der Sar now and there's a chance Van der Sar won't play next week, so we wanted to make sure he got a clean sheet today."

I know people can say, it's nice to see that players care about the club and all that rubbish, but you can't have two players on the same team fighting with each other. It's schoolboy stuff, It really is and I think both players should be mature enough to know you can't be doing that in front of the 1,000's in attendance at the Hawtorns today and the millions of people watching the game at home.

We would really appreciate if you clicked here to vote for Football Corner as EPL Talk's Best Premier League Blog 2008/2009.
3 comments: