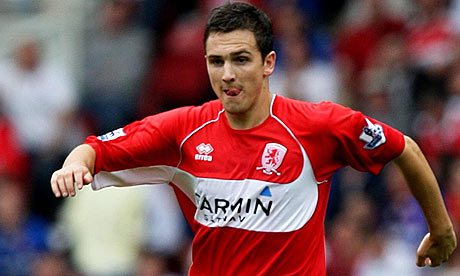 With Middlesbrough all but down now, it was only a matter of time before players from the North East club were linked with summer exits, wasn't it?

Well today sees, arguably Boro's best player (which isn't anything to be proud of), Stewart Downing being linked with a move to title chasing Liverpool. The 24-year old will apparently be the subject of a £12 million bid from the Merseyside club once the summer transfer window opens on July 1st.

Despite the fact Rafa Benitez' men have done particularly well this season to finish 2nd in the Premier League this season (well probably finish 2nd), many people still believe Liverpool need a top quality left-sided midfield player if they are to challenge Manchester United for the title in the years to come, which begs the question, why on earth are they going after Downing?

I'll be the first to admit, I really don't rate the England international. I never have. People say he is the best left-sided midfielder in the country. That's bollocks. At Boro he has achieved nothing and with the national side he has only had one or two decent performances but that's it. So although it may seem like an easy option for Liverpool to sign Downing, I think it just would be a massive waste of money.

What do you think? Comments below please.
5 comments: