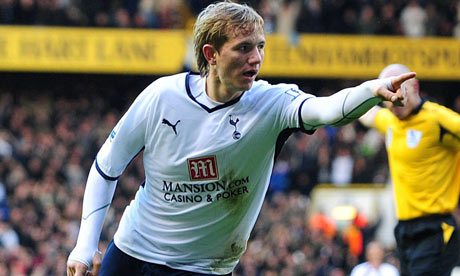 .... This guy wants to stay at White Hart Lane.

Yes, Roman Pavlyuchenko has today stated his desire to remain a Tottenham player after reports linked him with a possible summer exit from the club.

The Russian international has done little to impress during his first season in the Premier League, scoring just 5 goals (not including cup competitions) in the process. In recent weeks, Pavlyuchenko has spent some time in the reserves at the North London club.

The 27-year old had this to say : "I am a Tottenham player and want to remain one ... All these talks about a sale or loan don't bother me ... Of course it is not pleasant to be in the reserves. When I did not play for several matches I started to think everything over and to tell the truth I had some disturbing thoughts."

I am sure the majority of Spurs fans will agree with me when I say, Pavlyuchenko is not wanted at the club. I really think Harry Redknapp would be better off cashing in on the former Spartak Moscow man and then going out and signing someone like Roque Santa Cruz in the summer.

What do you think? Comments below please.


18 comments: