Hands up if you wanted to see a Barcelona v. Manchester United final.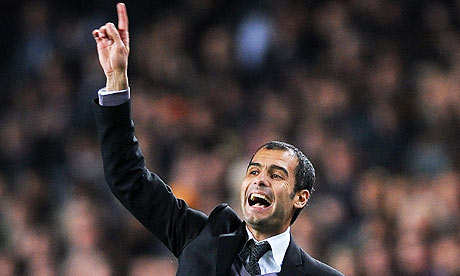 Sorry Chelsea fans but it really is the final everyone wanted to see.

As the final whistle blew at Stamford Bridge last night I couldn't help but feel a sense of injustice for Chelsea, however that feeling of injustice was quickly replaced by a feeling of anticipation. Anticipation that, in just under three weeks time, we will get to see, arguably, the two best club's in the world battle it out for one of the biggest prize in football. The Champions League.

The Premier League Champions versus the La Liga Champions.

The experienced campaigner, Sir Alex Ferguson versus the young pretender, Pep Guardiola.

The FIFA World Player of the Year, Cristiano Ronaldo versus the player who many people feel, on current form, is the best player in the world, Lionel Messi.

As I mentioned in the title, I really do feel this is the final everyone wanted to see, including UEFA. Graeme Souness said it perfectly after the match last night : "Let's put it this way, UEFA won't be disappointed that it's not and all English final."

It's a bit harsh to say that the game was in anyway fixed, although judging by some of the decisions last night you may argue it was fixed (joking). I am keen to hear your thoughts on the matter. Leave your comments below.
0 comments: