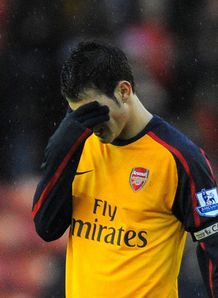 After weeks and months of speculation, Arsenal midfielder Cesc Fabregas has today admitted he has spoke with Spanish giants Real Madrid.

The Spanish international has been constantly linked with a move back to his homeland in recent months, with both Barcelona and Real Madrid keen on him.

Fabregas had this to say about the matter : "It's true the president of Real Madrid (Ramon Calderon) called me personally - we spoke on the phone,"

"But I never gave him my word that I was going to sign for Real Madrid. He asked about my progress and that was it ... It is an incredible compliment that two of the most important clubs in the world are interested in you, but I am an Arsenal player and have a contract with them until 2014."

Fabregas, 21, is still sidelined by a knee injury he picked up back in December, however the media spotlight certainly hasn't gone away from the Gunners skipper. It was alleged earlier this month that Fabregas spat at Hull City assistant manager Brian Horton in the immediate aftermath of Arsenal's 2-1 FA Cup victory over the Premier League strugglers.

Obviously Arsenal fans won't be too happy to see their most prized asset had been talking to one of Europe's elite. There is no doubt that Arsenal are a far better outfit when Fabregas is in the team and Arsene Wenger will certainly be doing his best to keep him once the summer comes. Despite what Fabregas says at the end about being under contract for another five years, I wouldn't be at all surprised to see him leave the Emirates before the start of next season.

What do you think? Comments below please.

1 comments:
The media seem to be making out that Fabregas is courting a move to Spain by contacting Real Madrid. What he said is that Calderon called him, which is a completely different thing. Everybody knows that Real Madrid and Barcelona would like to have Cesc but he has repeatedly made it clear that he is happy at Arsenal. So stop trying to make out that it is Cesc looking for a move.