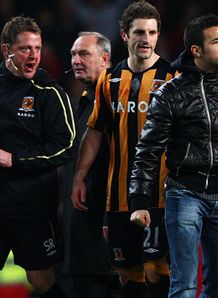 It's got everyone in football talking. Did Cesc Fabregas spit at Hull City assistant manager Brian Horton?

The alleged incident occurred just after Arsenal had booked their place in the last 4 of the FA Cup with a 2-1 victory over Phil Brown's Hull.

Fabregas, who of course wasn't playing in the match due to his long-term knee injury, has been accused of spitting at Horton, who was walking down the tunnel at the time. The Spanish international has categorically denied the accusation by saying : "I have never done this in my whole career on the pitch, so why would I do it when I am not even playing?"

Fabregas' comments came after Brown had this to say : "I was there and I witnessed it, he spat at my assistant manager down the tunnel ... That is their club captain, hopefully he is proud of himself. He spat at his feet."

I have to say I was shocked to hear Brown make such allegations after the match. He was clearly upset that his side had missed out on a place in the semi-finals of the FA Cup and maybe he made the allegations in the heat of the moment, however seeing Hull's chairman and indeed Horton say what they have today makes me think it might be true. I have always admired Fabregas, simply because I feel he is an incredible talent, however if it is proved that he did, in fact spit at Horton, he would certainly lose a lot of respect from myself and I'm guessing a lot of you reading this.

What do you think? Comments below please.
7 comments: