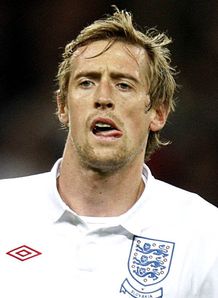 England striker Peter Crouch has today claimed Slovakia and Liverpool defender Martin Skrtel deliberately kicked him during last night's friendly at Wembley.

Crouch, who of course, used to play with Skrtel during his days at Anfield had this to say about the incident : "I went up with Skrtel. I thought he was my mate to be honest, but obviously not ... I went up with him and he kicked out and gave me a dead leg."

Crouch is now a major doubt for England's World Cup qualifier with Ukraine on Wednesday night after picking up that dead leg. As we all know, England ran out comfortable 4-0 winners in last nights match and to be honest with you, I feel Skrtel's actions may have been more out of frustration than anything.

It's a shame that such an incident has occurred but these things happen in football.
0 comments: