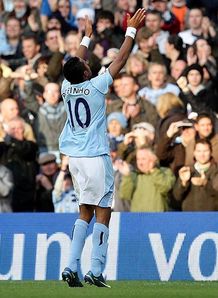 Manchester City striker Robinho has today claimed he is as good as FIFA World Player of the Year Cristiano Ronaldo. The Brazilian international has proved an instant hit in the Premier League since his £32.5 million move to City last September and has now vowed to become the best player in the world.

The 25-year old has scored an impressive 11 league goals this season which has him level in the goalscoring charts with Ronaldo. Since moving to Eastlands, Robinho has come in for a lot of praise, especially for his performances at the City of Manchester stadium.

On the other hand, his performances away from home have been less than impressive and has led to some people questioning his ability, however Robinho is now determined to prove his critics wrong and become the best in the world.

Robinho had this to say : "Cristiano is an excellent player and he deserves to have won the Ballon D'Or and FIFA World Player awards ... But I am neither better nor worse than him ... When I left Santos and signed for Real Madrid I was convinced I was going to be the best in the world ... Now I'm at City, I think the same. In Manchester I can fulfil my dream of being the best."

There is no doubt that on his day, Robinho is one of the most exciting talents in the world. Some of the goals he has scored this season have simply been outstanding. The goal he scored against Arsenal last November just shows you just how good he is. I'm sure you'll agree, the way he simply lobbed the ball over Manuel Almunia was breath-taking. Having said that, to be the best in the world, you need to be playing at your peak every single weekend, not just every second weekend.

What do you think? Is Robinho really as good as Ronaldo? Leave your comments below.
2 comments:
He is actually BETTER than the serial diver and will prove this beyond any doubt over the next year or so. Robinho actually 'turns up' for his country as well and is easily the best player for Brazil, whereas Ronaldo? Enough said.




In reply to D.Teacher he'd want to seriously consider sorting his life out. Ronaldo has won the world player of the year and a lot more than that. I would honestly be willing to put my life on the line that Robinho will NEVER score 42 goals in a season esspicsally for "win 1 lose 2 Manchester City". Robinho's a top player but will never be as good as Ronaldo. And Ronaldo has attuly scored more goals for Portugal than "Rapeinho" sorry Robinho has for Brazil. Dickhead.