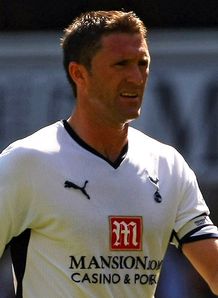 Tottenham manager Harry Redknapp has confirmed that Robbie Keane will captain the side in the absence of defender Ledley King. The Republic of Ireland international returned to White Hart Lane on Monday after Liverpool agreed to sell the player back to the club they had bought him from just six months ago.

With Keane, 28, now back in North London, Redknapp has now decided to make him captain, but is he really the man to wear the armband for Spurs?

Redknapp certainly thinks so : "I said to Robbie that if I brought him back that I would like to make him captain. I think it was important to him, to come back and lead the club ... He is a leader and has the personality to be a captain of Tottenham."

This won't be the first time Keane has captained Spurs before. He often led the side in the absence of King during his first spell at the club but I don't know if Redknapp should have made him captain again.

He is currently the captain of the Irish national team and as an Irishman myself, I am sure I am speaking on behalf of the majority of Ireland fans when I say that he has done little to impress during his time as captain. When Giovani Trappatoni originally chose his captain, there were three names being mentioned. Manchester City duo Shay Given and Richard Dunne were obvious candidates and then of course Keane.

Keane was eventually picked, much to the annoyance of myself and dozens of close friends. I am of the opinion that a striker should never be the captain of a club or country. I always think that duty should go to either a central defender or a central midfield player for the simple reason that they can see whats going on in the game in front of them.

So, do you think Redknapp was right to make Keane captain? Leave your comments below.
7 comments: