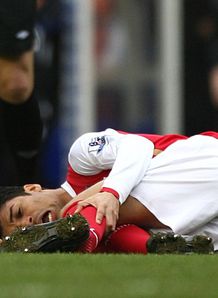 What a comeback!

As a I mentioned in the headline, he is like a new signing for Arsenal. After nearly twelve months out of action, Eduardo made a simply outstanding comeback last night to earn his side a place in the 5th round of the FA Cup.

The Croatian international scored twice in Arsenal's 4-0 victory at home to Cardiff last night in what was his first appearance since that horrific leg break he suffered against Birmingham City last February.

We all knew/hoped that Eduardo would eventually get back to his best form following the injury, however it's amazing to see that he has made an immediate impact. The 25-year old had this to say : "It was the best day of my life - it was a special moment to score, very emotional,"

Personally, I feel the return of Eduardo to Arsene Wenger's starting eleven will only help the side. The Gunners have lacked that cutting edge up front this season and Eduardo will go someway to fixing that. It will be interesting to see who Wenger now plays up front. Which two strikers should he play? Robin Van Persie, Emmanuel Adebayor or Eduardo or all of them? Leave your comments below.
4 comments: