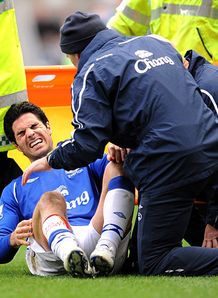 Everton have today been rocked by the news that midfielder Mikel Arteta will be out for the rest of the season. The Spanish international ruptured his cruciate knee ligament in Everton's 0-0 draw with Newcastle yesterday which now leaves David Moyes without his star man for the rest of the campaign.

The Toffees currently sit sixth in the Premier League with 12 games remaining and personally, I think they will struggle to hang onto to that spot with Arteta.

Arteta isn't the only player who Everton will have to do without for the final third of the season. We all know that Yakubu is also sidelined for the rest of the season and for me, they are their best players. No doubt about it.

Arteta is simply irreplaceable for Everton. Without him they are a totally different team. The 26-year old is Everton's joint top-scorer this season and has several assists to his name already so without him I feel they could really struggle to find the net in the coming weeks and months.

Arteta's injury should lead to Segundo Castillo earning a starting role in Moyes' midfield and for me, Castillo isn't half the player Arteta is. It will be very interesting to see how manage without their number 10 over the next few weeks, starting with the visit of Premier League strugglers West Brom on Saturday. What do you think? Will Everton be able to cope without Arteta. Comments below please.
3 comments:
out of interest who do you think can challenge Everton for that 6th spot?? Even without him Everton look much stronger than any of those below. Everton were looking to catch those above more than just consilidate 6th. That will be the challenge now.




I don't think a late run from Manchester City is out of the question. If they can sort their away form out they will defintley be challenging Everton for that 6th spot.