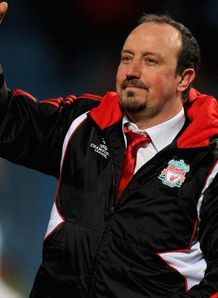 It was an interesting day for Liverpool football club to say the least. First, it was revealed that Rafa Benitez had rejected a new contract at the club, then the Spaniard saw his side's chances of winning this season's Premier League title disappear.

Benitez has repeatedly rejected new contract offers from American owners George Gillet and Tom Hicks. Benitez has no problems with the money being offered, however he does have a problem with some of the terms of the contract. The former Valencia manager has insisted he will only sign a new deal at Anfield if he is given full control of all dealings regarding transfers at the club.

As most of us will know by now, Liverpool fans don't like the owners. Simple as that.

It has been reported in recent weeks and days that the summer could bring radical change at Anfield. Either the owners go or Rafa goes and we all know what the fans would prefer. Despite the majority of fans wanting Benitez to stay, I personally feel he will walk once the season ends.

The owners are clearly reluctant to give into Benitez' demands and I think that coupled with the fact that Liverpool won't be collecting any silverware come the end of the season will see Benitez' five year spell at the club end. So, Liverpool fans (or any football fans in general) what do you think? Will Benitez stay or will he go? Leave your comments below please.
1 comments:
If Rafa was to leave, who would you want to replace him? Cathal, and anyone else for that matter - I'd love to know what you reckon at View from the Terraces?

Cheers,

Charlie