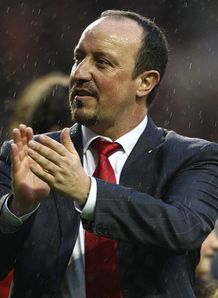 I was expecting this to happen in the summer but not now.

Yes, it's the news that has got everyone in football talking. Just days after seeing his side's Premier League title hopes disappear, Liverpool boss Rafa Benitez looks as though he could be on his way out of Anfield after it was claimed that the deadline for him to sign a new contract at the club has passed.

Earlier today, several leading bookmakers suspended betting on Benitez to be next Premier League manager to leave his post after reports emerged that the Spaniard could be gone by this weekend's trip to face Middlesbrough.

Benitez has been in negotiations with the Merseyside club over a new contract for what seems like years, however the former Valencia manager has rejected the offer of a new deal on more than one occasion. Benitez' reluctance to sign a new deal at Anfield over certain conditions of the offer has left the club's American owners (Tom Hicks and George Gillet) to consider his position at the club.

It was revealed last year that Hicks had held talks with Jurgen Klinsmann about the possibility of taking over from Benitez. This revelation led to weeks of uncertainty over Benitez' future at the club and at the time, I must admit, I thought he would walk. This time, I don't think it's a question of will he walk or not. Despite the club's insistence that it's "Business as usual" I always feel there's no smoke without fire and that is certainly the case here.

With contract talks continuing to stall and Liverpool now out of everything bar Europe, I think the owners will dismiss Benitez within days. What do you think? I'm intrigued to hear what you Liverpool fans have to say on the matter. Leave your comments below please.
4 comments: