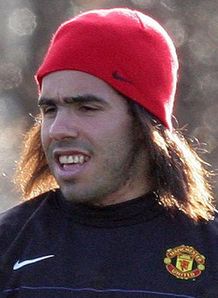 Manchester City are preparing to join Real Madrid in the race to sign Manchester United striker Carlos Tevez. It looks increasingly unlikely that Tevez will remain a United player beyond this season after the player admitted he has yet to be offered a new deal at Old Trafford to make his move to the club permanent.

United know they will need to cough up £32 million to make the Argentine striker's move to the club permanent, however, as of now, they have yet to do so. With United stalling on any possible deal to make Tevez' move permanent, both Manchester City and Real Madrid are understood to be monitoring the situation.

City boss Mark Hughes has admitted today he has tabled several bids for players in the past few days, however when asked about the possibility of Tevez arriving at Eastlands during the window, he remained tight-lipped. Personally, I would be extremely surprised to see Tevez a United player beyond this season.

It is obvious that United are reluctant to fork out such a massive amount of money on a player who sits on the bench most weekends. Tevez has himself admitted he would be delighted to play for Spanish giants Real Madrid, however a move to City may be on the cards considering the club's undoubted financial power. Be sure to stay tuned to Football Corner for all the latest developments on this and much more in the coming weeks.
0 comments: