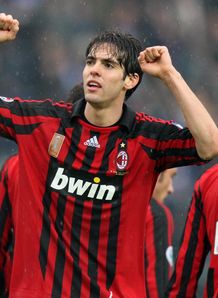 AC Milan's Kaka may yet be about to arrive at Manchester City this month. The world's richest club have this evening opened talks with Milan about a possible move for the Brazilian international that would no doubt break the world record transfer fee paid by Real Madrid to Juventus back in 2001 for Zinedine Zidane.

The 26-year old is widely regarded as one of the greatest footballers of all-time and this news will no doubt send out a message to the rest of Europe and indeed the world that City mean business. City have been linked with hundreds of players in recent months following the arrival of Kaka's international team-mate Robinho at Eastlands on the last transfer deadline day.

Oh my god. Wouldn't this just be incredible. As a City fan myself, to say I am excited is an understatement. I know we haven't actually signed the player, however even to hear that we have opened talks about a possible move is terrific. There is no doubting Kaka's ability and I have no doubt he would be a real success in the Premier League.

Stay tuned to Football Corner for all the latest developments on this and much more over the coming weeks.
0 comments: