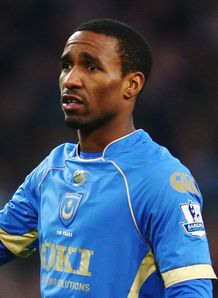 That's the opinion of our readers anyway. Yes, Football Corner has been running a poll on the site over the past week or so asking you, the reader, where you thought Portsmouth's Jermian Defoe will be when the January transfer window closes. The poll was so one sided that we took the decision to end it a day early.

Defoe, 26, has been heavily linked with a move away from Fratton Park in recent days and a move to his former club Tottenham looks the most likely destination for the England international. It seems as though the majority of readers would agree with that opinion.


Here is the full result of the poll :


Tottenham - 237 votes (64%)
Portsmouth - 45 votes (12%)
Man City - 43 votes (11%)
Aston Villa - 32 votes (8%)
Other - 12 votes (3%)

Total Votes : 369

I would like to take this opportunity to thank everyone who voted and I would encourage all of you to vote in our latest poll which can be found on the top right of the site. The poll asks : Where will Glen Johnson be when the transfer window closes? Get voting.
0 comments: