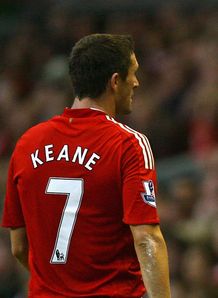 The end is near for Robbie Keane's future at Liverpool after he was completley left out of the Reds squad for the FA Cup clash with Everton today. When asked why Keane was not selected in the Liverpool squad today, Rafa Benitez claimed he had 19 players fit and had to drop one and that was Keane.
Benitez was then asked whether or not he thought the Republic of Ireland international had a future at the club to which he replied "I think so".

Keane, 28, has made 25 appearances for the Merseyside club since his £20 million move from Tottenham in the summer, most of which have come as a substitute. He has scored just 7 goals during this time and has most definitely fallen out of favour at Anfield.

With the transfer window open for another week or so, I would not be one bit surprised to see Keane heading for the exit door before the deadline on February 2nd. His former club Tottenham have been linked with a possible £15 million move, however I think it will be the world's richest club Manchester City who could make a move for him in the coming days.

Despite his poor form since joining Liverpool, I still feel Keane is a quality player who would certainly be a great signing for a side like City. There is no doubt Keane needs to be playing first team football and I think a move to City would suit all parties. Stay tuned to Football Corner for all the latest developments on this and much more in the coming days.
0 comments: