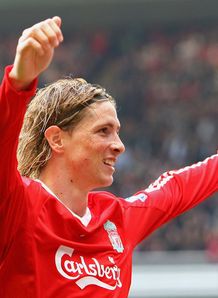 Liverpool have today been rocked by the news that Fernando Torres will be out of action until the new year. The Spanish international was set to return to action next weekend, however after seeing a specialist about his hamstring injury, Torres has been told he will now miss the busy Christmas period ahead for Liverpool.

Reds boss Rafa Benitez had this to say : "We first said two to three weeks but do not want to put a time on it now ... He will come back when he is ready. We will not rush him back ... We want to resolve this problem once and for all and we will make sure we do that."

The former Atletico Madrid man has only made 16 appearances this season for Liverpool, scoring total of 5 goals in the process. The 23-year old has become an essential part of the Liverpool first team since moving to Anfield last summer. Torres is widely regarded as one of the best strikers in Europe at the present moment and this news will obviously come a massive blow to Liverpool's chances of winning the Premier League title.


Although Liverpool will be without their best striker for the next few weeks, I feel Reds fans will be happy about this. There is no point in trying to rush Torres back every time he injures his hamstring. He needs to rest it and with time they will get better. Hopefully he will come back better than ever next year. Get well soon Fernando. As we get ever nearer the opening of the January transfer window, make sure to stay tuned to Football Corner for all the latest news.
0 comments: