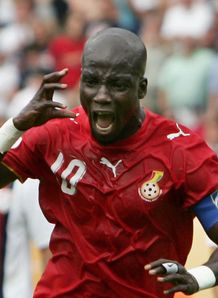 Tottenham are planning to bring Ghanaian midfielder Stephen Appiah to White Hart Lane after months of speculation over the player's future. Appiah has been a free agent since leaving Turkish giants Fenerbahce almost three months ago and has been linked with a whole host of Premier League clubs during that time, including Arsenal and Chelsea.

Harry Redknapp is now ready to offer the former Juventus man the chance to move to England. The 27-year old had this to say in relation to a possible move to the Premier League : "My dream is to play in the Premier League and with the help of God, I will realise that dream."

Personally I think this would be an unbelievable bit of business for Spurs. I have always rated Appiah very highly and I feel he would prove a quality signing should Spurs manage to bring him to North London. He wouldn't cost a penny and I believe he is just what Spurs need. A solid holding midfield player. With January fast approaching, make sure you stay tuned to Football Corner for all the latest news.
0 comments: